"I thoroughly enjoyed the course, the presenters were fantastic the whole program was very well organized and I can take away new skills, tools and enthusiasm for amazing wetlands".
2023-24 Three Day Wetland Plant
Identification and Ecology Course
For anyone interested in wetland plant identification and ecology.
Observe the changing seasons and water depths of the stunning Reedy Lagoon, Gunbower Island over a 6 month period. Each of the 3 days will focus on a different wetland habitat (wetting and drying) and associated plant community.
Course information and resources for
the Wetland Plant Ecology and Plant Identification Course
This course has run since 2015. From summation of all past evaluations overall 100% of participants stated that the course was very good/excellent, with an average rating of 4.4/5.
Fantastic introduction to wetland vegetation and ecology.  If I can do the course and identify plants afterwards, anyone can! Greg Fletcher, Wimmera Catchment Management Authority
I found it useful to improve my general wetland understanding from which I can ask all the important questions of my consultants to check their reasoning in plans etc. 
Strengths of the course were the inspirational style, group sharing/learning and field trips. 
Excellent course thanks so much!
Great course.  Damien and Elaine share their wealth of knowledge in an easy to understand and accessible manner.
I am now very inspired, thanks for sharing your passion and knowledge in such a relaxed and easy way. Linda, private landowner.
Thank you it was fantastic!
Damien and Elaine combined have an amazing passion and knowledge which is priceless to the rest of us.  Alexander Lee, SPIIRE Landscape Architects
Very knowledgeable presenters with a wide understanding of wetlands across the state.
Damien and Elaine are passionate, experienced educators. They have been delivering education and training events since 2002 (both accredited and non-accredited) throughout Victoria.
Watch Damien talk about how habitat values of dams can be improved, for the Chewton Bushlands Re-Wilding project.
Watch Elaine talk about the northern Victorian populations of the Eltham Copper Butterfly, life history, threats and the citizen science action she manages for the Castlemaine and Wimmera populations.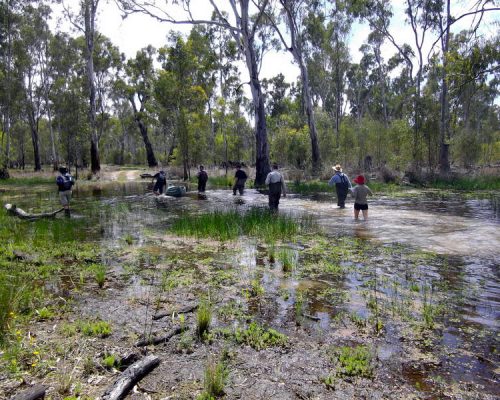 The WRT offers a 3-day wetland plant identification and ecology course that is conducted over a six-month period. Other training can be customised to suit an organisation's particular needs. Training presentations can also be developed and delivered for special interest groups and conferences.
Education and Training Services include: