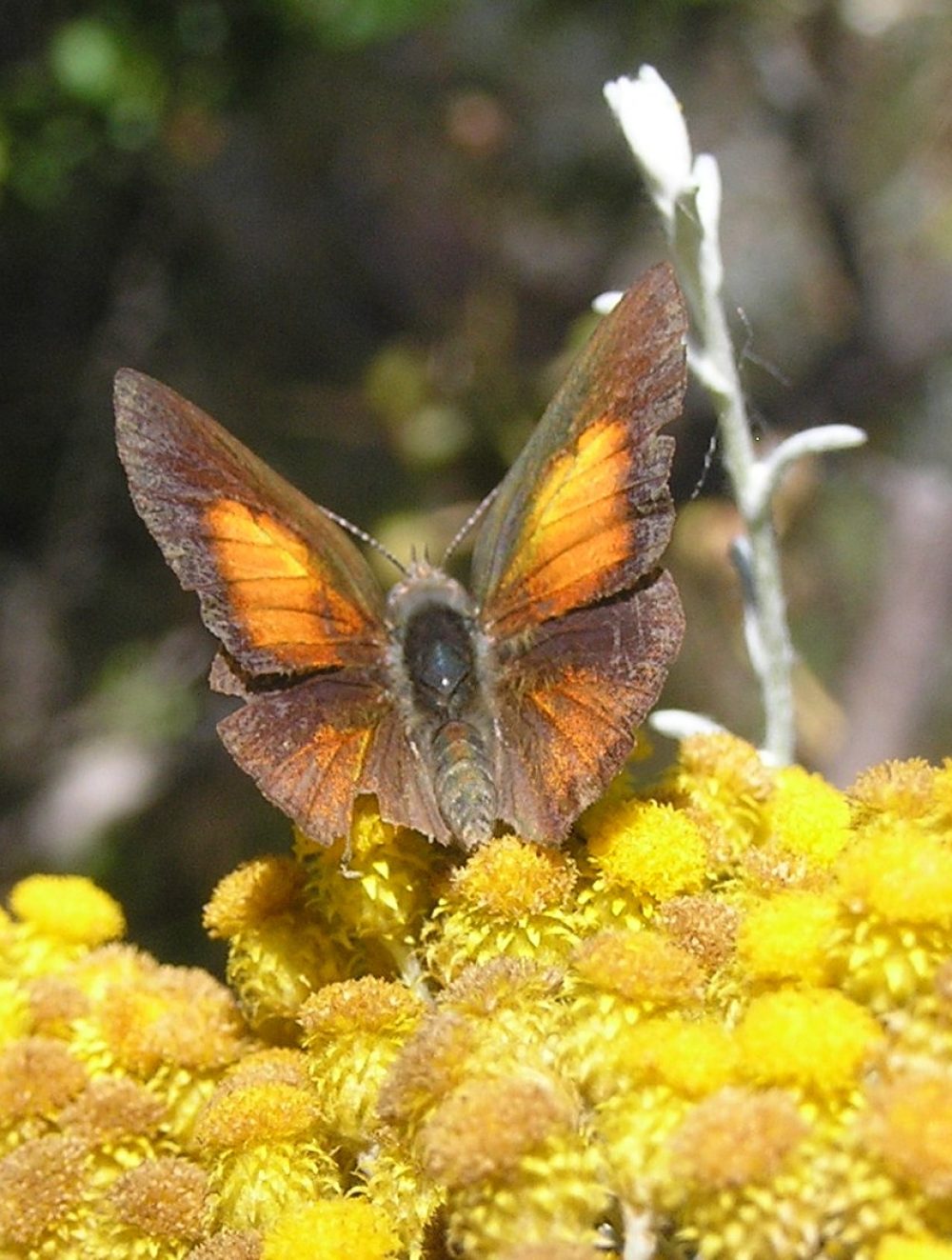 The Eltham copper butterfly is a small attractive butterfly with bright copper colouring on the tops of its wings that lives in dry open woodlands.
Eltham Copper Butterfly at Kalimna Park Castlemaine
The nationally endangered Eltham copper butterfly (Paralucia pyrodiscus lucida) has a dramatic history. The species was formally described in 1951 having been collected at a number of sites around Eltham from 1923. Subsequent lack of records over the next 37 years combined with housing development in their prime habitat at Tallarook, Murtoa, Dimboola, Keilor, Broadmeadows and Yarrambat resulted in the belief that they had become extinct.
In 2011 a 3000-hectare search revealed eight new populations around Bendigo and Castlemaine. The new populations are very localised with the butterfly only occurring in 3-25 per cent of suitable habitat. Numbers of butterflies are also very small, with populations of around 50, being peppered across the area.
During the summer of 2021/22, Bursaria and ECB surveys directly contributed to the protection of this nationally endangered species by locating six new ECB sites. This included a new ECB population in Quartz Hill (18 ECB), three new ECB sites (each with 1-3 ECB) in Castlemaine South one new sub-population (17 ECB) at Kiata and Wail (18 ECB).
Landcare groups have played a vital role in assisting with surveys for the Eltham copper butterfly by surveying areas for suitable habitat, removing weeds and planting suitable habitat species for the butterfly.
By changing the way fuel reduction burns are conducted land managers can reduce fuel loads but ensure habitat is maintained for butterfly breeding.
Landholders can help by retaining and restoring native understorey plants, and, if appropriate to the area, by planting sweet bursaria. Look for the copper sparkle of flying adults from early November to January. Sightings can be reported on the Butterfly Australia app available at butterflies.org.au
If you would like to join the ECB monitoring group to help survey for the butterflies and their host Bursaria plants,
please contact Elaine here
Click here to go to the Eltham Copper Butterfly website for more information about the Butterfly and its identification